ArtIcons Pro can find, extract, edit and create Windows 8 style UI icons, import and export ICO, CUR, BMP, JPG, PNG, PSD, WBMP, GIF images, create and manage icon libraries.
ArtIcons Pro features:
Easy to use, lightweight, requires no installation (portable)
Supports file drag and drop
Has multilanguage support (included: English, Chinese, French, German, Hungarian, Italian, Japanese, Korean, Norwegian, Polish, Portuguese (Brazilian), Serbian, Spanish)
Sample documents are included
Uses dynamic color depth
Opens and saves in ICO, CUR, ANI, PNG, XPM, BMP and JPEG formats
Can create icons and cursors up to 512x512 @ 32-bit, which can also be PNG-compressed for use in Windows Vista/7/8
Can create animated cursors
Can handle images up to 1024x1024 and larger
Can extract icons and cursors from executable files and icon libraries
Can batch convert image files to icons, or to another image format
Offers various gradient styles for filling shapes
Lots of filters including Remove matte, Drop shadow
It's the best portable icon maker!
With ArtIcons Pro you can:
Create and edit icons in color depths up to 16 million colors
Create and edit Metro-style icons
Create and edit images in 32-bit color depth with 8-bit alpha channel
Create and store images containing several layers
Paint images with gradient and chess fill
Modify images with drop shadow, opacity, smooth, negative, grayscale, colorize, rotate, roll and mirror effects
Import icons from .cur, .ani, .ico, .icpr, .wmf, .emf, .bmp, .wbmp, .jpg, .gif, .tga, .xbm, .xpm and .png files
Export icon images to .cur, .ico, .icpr, .bmp, .jpg, .gif, .png, .xbm, .xpm, .wbmp and .rc files
Export animated icons to animated .gif images and image list bitmaps
Extract icons from Windows executables, libraries and animated icon files
Create icon libraries for better and more efficient storage
Collect icons from folders and subfolders into libraries
Work with image lists in BMP and PNG formats
Delete identical icons in libraries
Drag and drop files from file shells
Drag and drop icons from one library to another
Drag and drop icon images from one icon to another
Copy and paste icons in libraries
Copy and paste images to other applications
System requirements: Windows 95/98/ME/2000/NT/XP/2003/Vista/7/8, Windows PC.

Trial limitations: 30-day trial period, nag screen.

Download icon editor:
exe
zip
Click here to order icon maker
Click here to view a full screenshot

If you have always wanted to design icons with your own unique blend of creativity; then, this is your chance to do so because now you can get access to a very powerful icon maker that can be used to make all sorts of web graphics from mouse cursors to web buttons and even Windows cursors.


View Icon Articles
Shade the Graphical User Interfaces With the Brand-New Windows Icons
User interfaces engage in a visible function in enhancing the user friendliness in addition to visual appeal. Move a stride even more with the aid of the latest icons available right here making ones applications exciting to use and straightforward to get around, by using the assistance of a number of wisely created visuals for your use via this web site.

A particular MR. Fred R Barnard within a journal in 1921 claimed a few phrases, "a picture is worth a thousand words", even he might not have concluded the actual importance of the key phrases then, or possibly he did, as more than ninety years just after making this particular announcement we attempt to discover a growing number of ways to apply it. Barnard might have stated it when concerning the specific opportunity of graphic advertising campaign, but several decade's back it all found it's way into the concept of coding while using coming of Graphic uis when illustrations or photos as well as symbols swapped out writing intricate command-line justifications.

Employing straightforward, clear and understandable designs will go some distance straight into making the life of a user simpler. By simply getting all of these icons not only do you help make that less difficult for you to get around, it really makes the graphical user interface more appealing.

You may get the hands on above seven-hundred these types of designs right here, them all at a cost of ninety nine us dollars. The graphic arrives in a dimension equal to a square of forty eight pixels which may have a see-through background and a picture of 26 by twenty-six pixels at the centre. these types of design appropriate for your entire Windows 8 plus MS Windows phone softwares come in the PNG format and are avalable in any of fourteen different colours including the normal blue, red and additionally green to the more exceptional deep blue and also light-red, and may even be used with or without the surrounding circles. Personalize every last web site on your pc with the help of every one of them expertly intended icons plus take the drive utilisation to a totally new levels; it is possible to change symbols for any usual elements for instance redo, undo, back, refresh etc. along with a majority of these creatively fascinating design. Combined with the normal types, you get to choose out of tons of off uniquely designed pics that you'll have some fun assigning capabilities to, you have a cardiologist symbol, a motor man symbol, a detective image, the auditor symbol and in all likelihood the best of them angel icon.

All these icons, as I have stated earlier, come in a very deployable type, you will get their hands on them the instant you complete the payment and then you are free to work with all of them in all of the imaginable means. A nice-looking graphical user interface tends to make hrs at work sound way much easier along with helps you save from getting fatigued at your inner levels by going through these extensive compilation of commands. Quick navigation, appealing user interface as well as sensible functionality stay in the centre of every app, by making use of this group you will have the interface along with the navigation part dealt with, the only affair that may be stopping you from making a cutting edge software is you. Obtain all of these designs at this moment plus revitalise the entire coding practical experience.


ArtIcons Pro
is our pick. It enables professional and amateur artists to design and edit all kinds of icons. It supports ICO, BMP, PNG, GIF, ICPR, PSD, XPM, XBM, WBMP, CUR, ANI formats. German interface is available.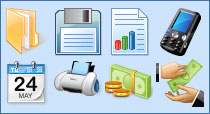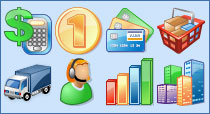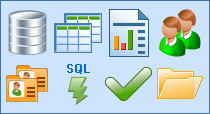 IconLover
allows you to design and edit all kinds of graphics required in the software development cycle, including icons, static and animated cursors and interface elements - all these kinds of graphics can now be designed in a single application.
ArtCursors
allows you to find, create, edit, import and export cursors and manage cursor libraries. It supports static and animated cursors.
Any to Icon
converts BMP, JPG, PNG, GIF, ICO, CUR and other formats into XP icons. This wizard can correct problem icons.